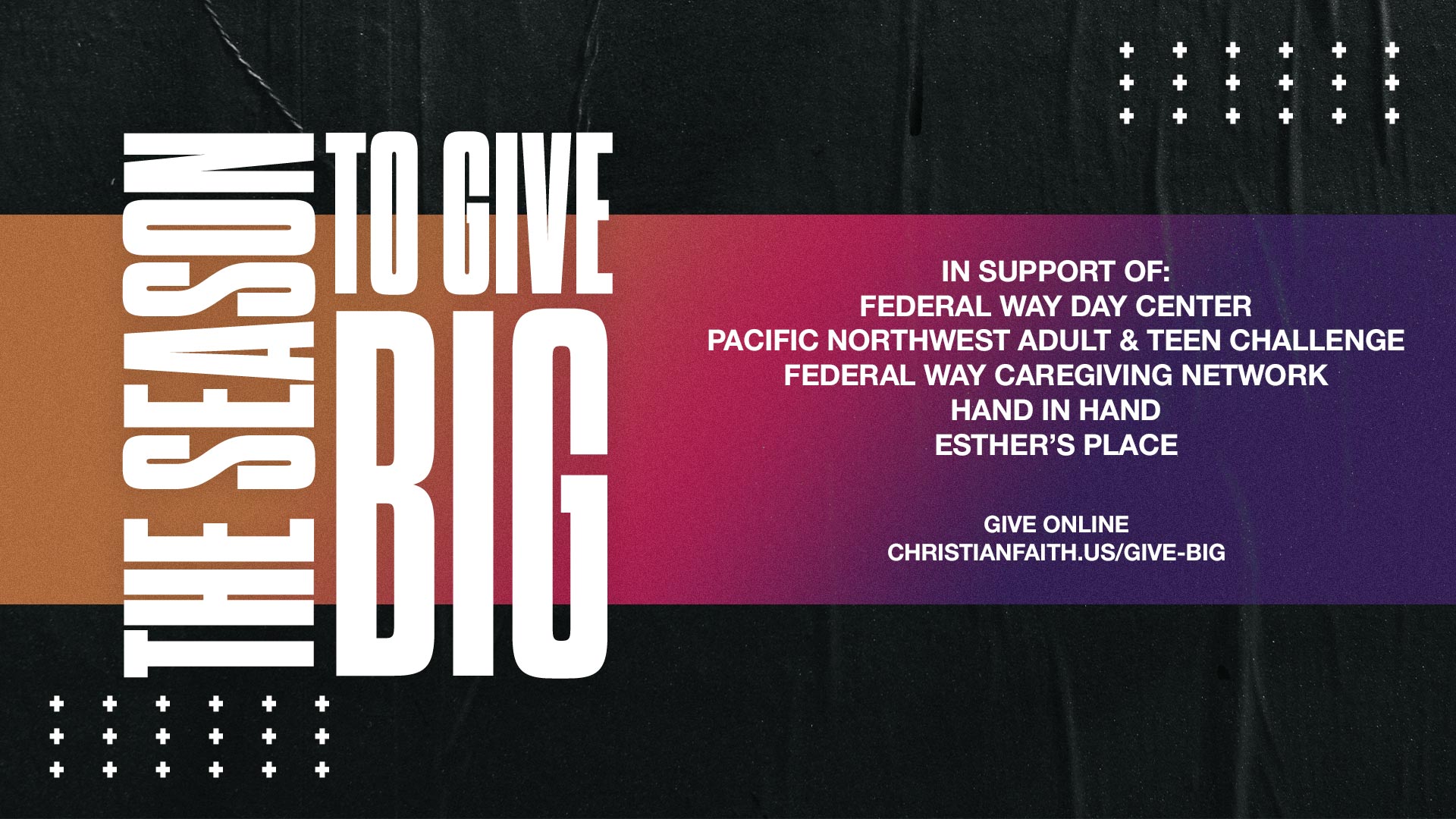 Our Federal Way campus is working with three organizations in the Federal Way area: Pacific Northwest Adult & Teen Challenge, Federal Way Day Center, and Federal Way Community Caregiving Network.
Pacific Northwest Adult & Teen Challenge
Pacific Northwest Adult & Teen Challenge is a faith based, one year, residential discipleship program with the purpose to restore hope to those who suffer from addiction as well as other serious, life-controlling issues.
Federal Way Day Center
Federal Way Day Center provides a welcoming space to adults who are homeless and vulnerably housed. The Day Center offers showers, laundry, computers, phones, mail reception services, space for meal preparation, and access to health care and social services.
Federal Way Community Caregiving Network
For over 25 years, the Federal Way Community Caregiving Network (FWCCN) has been providing services to people who live within the boundaries of the Federal Way School District and Northeast Tacoma who are struggling to meet basic needs. Services include rent assistance, limited motel stays, gasoline vouchers, bus tickets, community meals in collaboration with local churches, and other basic needs for daily survival such as hygiene products, socks, blankets, tarps, and jackets.
Serve 1
Serve 1 is our outreach ministry at Christian Faith and serves community meals every Monday.
Donating is easy. Follow the link below to give a donation.
Items in need for Federal Way Day Center: laundry soap and softener
Items in need for FW Community Caregiving Network: new socks and coats for adult men and women
Our Mill Creek campus is working with Hand in Hand and Esther's Place.
Hand in Hand's Outreach Program and Safe Place Shelter
Hand in Hand's outreach program aims to build relationships within the community through support services and community engagement events, providing youth and families with hope and opportunity.
Their purpose can be seen in every emergency food box we distribute, in each hour of academic support we provide, in every soccer game played, and in every connection we make with the families we meet.
Hand in Hand's Safe Place shelter allows us to provide emergency care for youth initially entering foster care. At Safe Place, each child is resourced with new clothes, shoes, toiletries, a blanket, and more.
While in our care, these youth have a bed to sleep in, warm meals when they're hungry, and space to play and have fun. Most importantly, the youth at Safe Place are cared for and are safe to just be a child.
Esther's Place
The services provided at Esther's place are accessible to women and their children who are in a variety of challenging circumstances. Homeless, domestic violence survivors, recovering drug users are just some of the clients that utilize this low-barrier facility.
More than just breakfast and lunch, which is served daily, our services include free phones, insurance cards, sleeping bags, and other essential survival supplies. Clients can also attend life skills classes, support groups, and recovery meetings daily.
Developing relationships with each woman is our most important function on guiding them toward the resources and services on their road to self-sufficiency.
We have compiled a list of Hand in Hand's Christmas needs below. Donation items can be dropped off at our Mill Creek campus.
New Warm Coats For kids 0-17

New shoes for kids 0-17

Diapers All sizes

Wipes

Shampoo

Conditioner

Body Wash

Full size toothpaste

Deodorant

Baby Soap

Dish Soap

Laundry Soap

Cleaning Supplies

Toilet paper